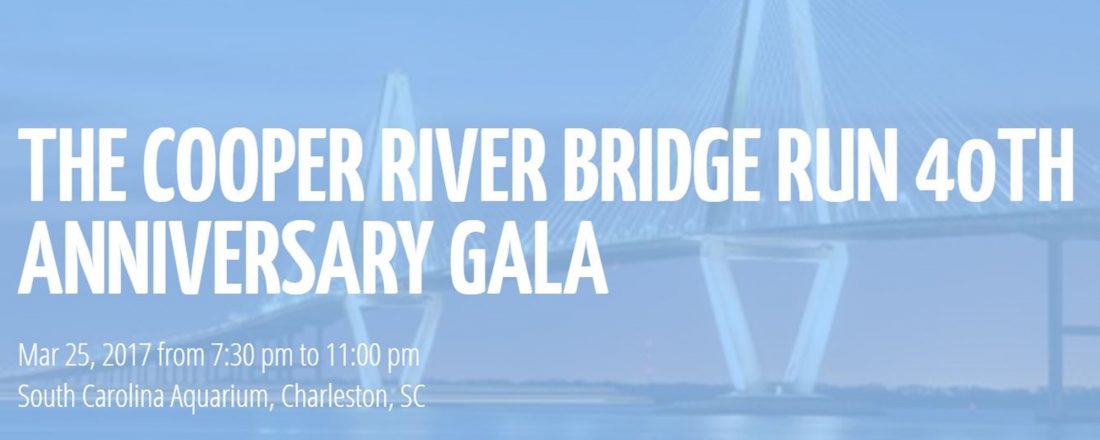 08 Mar

PURCHASE TICKETS TODAY FOR THE 40TH ANNIVERSARY BRIDGE RUN GALA

The Post & Courier is hosting the Cooper River Bridge Run 40th Anniversary Gala, held at the South Carolina Aquarium on Saturday March 25, 2017 beginning at 7:30 pm. Tickets are only $50, so #getoverit and party with the Bridge Run. Enjoy live music from Quiana Parlor and her band, an open bar with specialty cocktails, and an incredible selection of food stations. Purchase tickets today here.

All of the excitement of race day will also take place at this gala to celebrate the Bridge Run's 40th Anniversary. The Ravenel Bridge will serve as the backdrop of this event at the beautiful South Carolina Aquarium. Guests will enjoy an open bar with wine, a Michelob Ultra beer selection, and specialty cocktails from Tito's Handmade Vodka and Firefly Spirits. Gourmet food stations will be placed throughout the aquarium with an array of hot dishes from BBQ and shrimp and grits, to veggie quesadillas and much more.

The dance floor will be lit with live music from Quiana Parlor, who is known as "easily Charleston's best event entertainer" by Charleston City Paper. A Lowcountry native, she has toured throughout the nation alongside Kelly Clarkson, Maroon 5, Keith Sweat, Clay Aiken, and Miranda Lambert; and has also performed on Saturday Night Live, The View, NBC's Today Show, The Tonight Show with Jay Leno, Good Morning America, and more.

Be just as playful with your attire at this gala as you are on the day of the Bridge Run! Arrive in your own style, from casual to cocktail, to black tie with running shoes, or even your Bridge Run costume. The mission of this gala is to let loose and enjoy yourself while relishing in the 40 years of Bridge Run memories.

All proceeds from the Cooper River Bridge Run 40th Anniversary Gala will benefit the Bridge Run's 15 local charities. Join us as we celebrate 40 years of the Cooper River Bridge Run at the 40th Anniversary Gala! Check out our page for updates on the 2017 Cooper River Bridge Run for more creative ways to keep fit and active!